The Foundation Assisted Schools (FAS) Program is the integration of the four notable programs of the Foundation which include SEF Assisted Schools (SAS), Promoting Private Schools in Rural Sindh (PPRS), Existing Schools Support Program (EESP), and SEF Middle and High School Program (SMHSP). The evolution of Foundation Assisted Schools (FAS) is yet another step towards strengthening the Public Private Partnership (PPP) model of the Foundation for the purpose of promoting the twin goals of equitable access to, and improving the quality of education for all the children across Sindh.
Programs merger in view of restructuring
The merger of programs was initiated in the background of the restructuring drive in 2015 which was based on a thorough review of school performances that pointed to the need for streamlining management, quality, and enrolment. The programmatic restructuring is aimed at improving governance, assuring standardization and enhancing quality by improving school environment, academic capacity building and modernization of knowledge delivery.
The structural variances in the programmatic portfolio have been removed through various steps including revision of contracts, policy streamlining, mandatory appointment of head and subject teachers, and elimination of multi-grading of schools. Massive reforms in student enrolment have been introduced with emphasis on rationalization of student-teacher ratio and student-to-classroom ratio.
Early Childhood set ups, laboratories, playground and co-curricular facilities are being vigorously pursued. Necessary infrastructure for ICT-based learning has also been introduced. This is in addition to the emphasis on assuring environment-friendly schools (through clean energy) and promotion of healthy and hygienic environment with access to clean drinking water and toilet facilities.
FAS endeavors to shift the paradigm of SEF partners to an education-oriented social enterprise. SEF's vision of quality education transcends access to basic schooling and improving literacy rates with a resolve to develop and implement viable models of academic delivery through public private and community partnerships, which are contextually relevant to the local needs; and, they directly contribute to the sustainable development of the communities being served.
Objectives
To encourage private sector organizations in assisting the Government for the provision of accessible, quality education in the most underserved areas of Sindh
To supplement government policies under Universal Primary Education by enhancing educational facilities for out of school children and youth, especially girls
To extend free and flexible learning opportunities at the grass-roots level
To ensure gender equality in education
To ensure long term institutional development of schools in partnership with communities for sustainability of quality reform efforts
Current Interventions
SEF is in the process of
upgrading primary schools to elementary level and elementary schools to secondary level
providing support in establishment of audio/visual rooms, computer and science labs in selected schools
providing support for adopting alternative energy solutions, solar energy, in selected schools
introducing IT-based reforms in pedagogical methods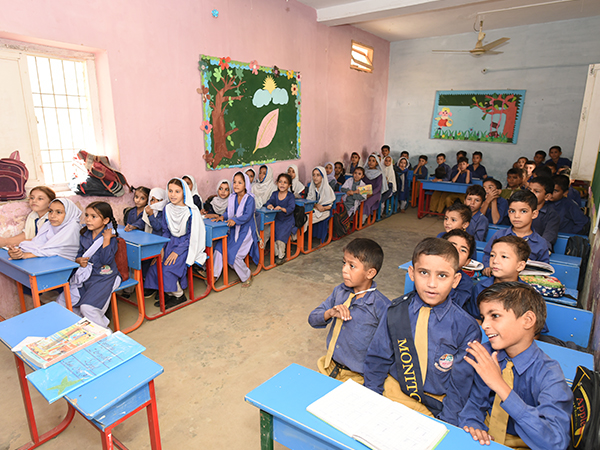 Support Extended to Schools
SEF extends monetary support to its partners (school operators) under per child subsidy model.
Apart from the aforementioned monetary support, SEF also provides free text books and learning material to the enrolled children and builds professional capacity of teachers and school partners through different trainings and exposures.
Target Area
The Foundation Assisted Schools program extends to the whole province of Sindh.
Quality measures
Renewal of Contracts necessitating operators to invest in improved learning environment and enhanced quality of education services
Annual students' assessment to gauge students' learning outcomes
Teacher-centric assessment for evaluating their pedagogical skills
Regular monitoring of schools by employing best practices of Monitoring & Evaluation (M&E)
Future Steps
Expansion of program horizontally and vertically to make quality education more accessible
Improvement of physical, academic and environmental conditions of schools
Initiation of an extensive training program for teachers
Introduction of quality audit mechanism
Regularization of teachers' and students' assessment using more effective methods
Facilitating and harmonizing the up-gradation of schools in line with defined quality standards
Encouraging adoption of alternative energy sources, especially solar energy in more schools
Provision of learning material and class room development initiatives
Empty tab. Edit page to add content here.